SHINING YUAN ENTERPRISE CO. LTD.
Shining Yuan Enterprise Co., Ltd. was established on April 28, 1980. Since then, we have kept "efficiency, ability, honesty and duty" as our corporate ideal and "quality assurance and reliability" as our policy.
Through our honest and reasonable business method, as described above, and the experience gained over several years of studying more efficient production methods for a wide rang of transformers and coils, we are confident in our ability to provide high quality products to satisfy customers in both quality and profit.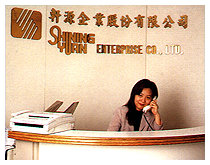 Shining Yuan has commited the Taiwan Industrial Technology Institute, Chinese Productivity Center, and Chien-Feng Enterprise Management to educate our employees and to promote our marketing ability.
For the purpose of expanding business, we estabished factories in Hui-Dong county Li-You Manufactory in China in 1989 and "CORE Electronices (M) SDN, BHD at Penang, Malaysia in 1990. The Taiwan company Shining Yuan, is our headquarters and the address is : No. 5/5F, lane 163, Hsin-Yi Road Pan-Chiao, Taipei Hsien, Taiwan, R.O.C.
CORE ELECTRONICS (M) SDN. BHD
Core Electronics (M) Sdn, Bhd is located in the Pral Industrial Estate, Free Trade Zone, Penang, Malaysia. The location is just five minutes by car from the Penang Bridge.

Land selection and factory construction was started in 1989. Factory operation started in June 1990. The total factory area is 2640 square meters. Current capacity achieved 180,000 pieces daily output, with 400 operators. Other than supplying to local markets, we are also involved with export activities to Singapore, THailand, and Indonesia, etc.
HUI-DONG COUNTY LI-YOU MANUFACTORY
Hui-dong County Li-You manufactory is located at the Chu River delta, 38 kilometers from Hui-Chou, and 50kilometers to Hong Kong by sea. The location of the factory is good and the traffic is convenient.
Li-You Manufactory was established in Hui-Dong County in November 1989. After a few years of expansion, the manufactory now takes up 16,100 square meters (about 5,000 pings). Li-You has 60 production lines, 500 sets various winding machines, 300 sets testers, and 6sets of vacuum dipping machinesl. Daily output is 350,000 pieces with 1,425 operators.
In December 1994, Li-you Manufactory was ISO 9002 certified by LRQA. Li-You has received awards for "Excellent Foreign Industry", "Free Examination Labor Area", "Reliable Industry",ect. In the local area the Li-You Manufactory is considered to be a model factory.
SPECIALIST OF TRANSFORMERS & COILS
Certificate No.943066
LI-YOU MANUFACTORY ONLY
COPYRIGHT 1998 SHINING YUAN ENTERPRISE CO., LTD.
NO.5/5F,LANE163 HSIN-YI ROAD,
PAN-CHIAO, TAIPEI HSIEN, TAIWAN, R.O.C.
TEL:886-2-29641877
FAX:886-2-29642266 886-2-29642277
E-MAIL: sye@ms2.hinet.net